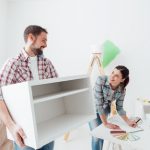 Remodeling your home is an exciting project, but it can also be a financial burden. However, with some thoughtful planning and cost-effective ideas, you can achieve your dream home without emptying your bank account. In this blog post, we will explore some budget-friendly remodeling tips to help you stay within your budget while still achieving the desired results.
1. Repurposing Materials:
One of the smartest ways to save money during a remodeling project is by repurposing materials. Start by taking an inventory of items you can salvage from your existing space or other areas of your home. For example, cabinets, doors, and fixtures that are in good condition can be repainted or refinished to give them a fresh look. Repurposing materials not only saves money but also adds character to your space.
2. Shopping Smart:
When it comes to remodeling, shopping smart is essential. Look for sales, discounts, and clearance items at local home improvement stores or online retailers. Often, you can find high-quality materials and fixtures at significantly lower prices. Additionally, consider shopping at thrift stores or salvage yards for unique and budget-friendly items that can add a distinctive touch to your remodel.
3. Affordable Contractors:
Hiring a contractor is often necessary for complex remodeling projects. However, finding an affordable contractor can be challenging. Start by seeking recommendations from friends and family to find reputed contractors who offer competitive prices. It is also crucial to obtain multiple quotes and compare them in terms of cost, experience, and customer reviews. Proper research helps in finding a contractor who offers quality work within your budget.
4. DIY wherever possible:
If you have the time, skills, and resources, consider taking a do-it-yourself (DIY) approach for certain aspects of your remodeling project. Painting walls, installing light fixtures, or even laying flooring are some tasks that homeowners can often handle themselves. However, be realistic about your abilities and leave complex tasks to the professionals. DIYing can save you a significant amount of money while adding a unique personal touch to your remodel.
5. Prioritize Your Remodeling Goals:
To stay within your budget, it's important to prioritize your remodeling goals. Identify the areas or elements that are most important to you and allocate a larger portion of your budget towards those aspects. By focusing on your top priorities, you can ensure that your money is wisely spent on the elements that matter most to you.
6. Opt for Cost-effective Updates:
Not all remodeling needs to be extensive or expensive. Consider making cost-effective updates rather than complete overhauls. For instance, instead of replacing your entire kitchen cabinetry, you can opt for refacing or simply replacing cabinet doors and hardware. This can give your kitchen a fresh look without breaking the bank. Focus on small changes that make a big impact on the overall aesthetics.
7. Energy-Efficiency Upgrades:
In addition to saving money on the remodeling process itself, incorporating energy-efficient upgrades can also help you save money in the long run. Install LED light fixtures, upgrade windows to double-pane, and invest in energy-efficient appliances. These upgrades not only reduce your utility bills but also add value to your home.
8. Rent Tools:
Avoid unnecessary expenses by renting specialized tools instead of purchasing them for a one-time use. Many hardware stores offer rentals for a fraction of the cost of buying tools outright. Renting tools also ensures that you have access to high-quality equipment without the added cost of ownership and maintenance.
Conclusion:
Remodeling on a budget doesn't mean compromising quality or style. By adopting these budget-friendly remodeling tips, you can stretch your dollars and achieve remarkable results. Repurposing materials, shopping smart, finding affordable contractors, and prioritizing your goals can go a long way in maximizing your remodeling budget. Remember, creativity and thoughtful planning are key to creating the home of your dreams without burning a hole in your pocket.
Got Questions? Let Us Help!
Welcome to Nowak Cabinets of Midland! Nowak Cabinets of Midland is a family-owned and -operated cabinet store in Midland, Michigan. We specialize in custom cabinets and countertops for any room, and we can design and construct them in a wide variety of styles and materials to ensure that the finished project matches your space. We are committed to our service and craftsmanship for each and every project in your home. Contact us today to get started!
Categorised in: Remodeling
This post was written by admin