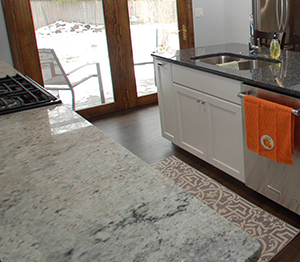 Countertops are one of the most abundant features in your home and can make a dramatic impression in your kitchen, bathroom or other space. Having the right material, color and style can bring a room together or create a standout accent that's stunning. Whatever your design preferences when it comes to custom countertops, Nowak Cabinets of Midland is ready to help.
We can provide you with a complete range of countertop materials, with varying degrees of color and pattern. Come to us for everything from builder's grade basic colors, to rich, elegant granite countertops in Midland, Saginaw, and the rest of Midland County, MI. We take pride in being able to match your style criteria, for a truly custom aesthetic in your home.
From Sale to Installation
When you come to us for custom countertops, you're going to get inclusive service that results in the easiest experience possible. Not only can we show you various styles and answer your questions in our showroom, we can mock up digital designs to show you what your selection will look like in your home. Once you've made your decision, we'll facilitate an installation that's seamless and of the highest caliber. All you need to do is pick the style you like best and sign on the dotted line—we'll do all of the heavy lifting!
Digital Renderings
Want to see what your new marble countertops or quartz countertops will look like in your Midland, MI home? We'll be happy to mock up a design for you, so you can see them firsthand. Using state-of-the-art digital tools, we can bring your bathroom countertops to life with stunning realness. It's our way of helping you feel confident in your purchase.
Choose Your Material
Instead of picking styles out of a book or looking at swatches online, we urge you to visit our showroom and see real examples of every material, style and color we have to offer. From basic builder's cuts and standard colors, to custom, high-end stone countertops, we've got options for every budget and preference. We have several different materials to choose from for your kitchen and bathroom countertops, such as: Corian, Granite, Laminate, U.S. Marble, Quartz, Butcher Block, Americast and more.
Stop into our showroom today to see our selection for yourself, or contact us at Nowak Cabinets of Midland at 989-496-7420 to learn more about all of the quality custom countertops, cabinets, and closets we can offer you.