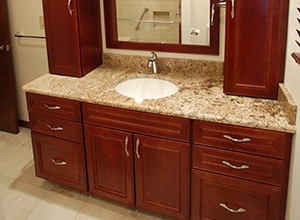 Cabinets play a vital role in your home. They're the face of your kitchen, offer vital storage of your bathroom, house your media in the living room and keep things organized elsewhere in the home. Having quality, accommodating cabinets throughout your house is something every homeowner strives for.
At Nowak Cabinets of Midland, we're known for providing homeowners with customized cabinet installation of the highest caliber. Our cabinet designers in Midland, MI can design and create unique cabinets from scratch for your home, no matter the room or application. We take pride in using only the best materials and delivering superior craftsmanship, so you're guaranteed cabinets that are truly exceptional.
Cabinet Installation for Any Room
From spacious custom kitchen cabinets to space-conscious bathroom cabinets in Midland, MI, we design cabinetry for any room of your home. Just tell us more about the application and we'll work with you to determine measurements, materials, cabinet features and more. Our designs are known for being beautiful additions to any room, with functionality that's second to none.
Cabinet Hardware
More than just building the perfect cabinet structure, we have access to an extensive range of hardware to further customize your installations. From knobs and hinges to glass inserts and shelving solutions, let us outfit your custom cabinets with the finishing touches that make them perfect.
Materials and Styles of Any Caliber
Choose from builder's grade cabinetry for your workshop or new addition, to high-end cabinetry for your luxury dream home—our products span the gamut of options. We'll make sure you get the right material and style for your application, so it blends seamlessly and functions flawlessly.
Digital Cabinet Designs
Want to see what your cabinet designs look like before we get started? Our digital rendering capabilities allow us to mock up your designs so you can see exactly what they'll look like in your home. It's a great way to get a visual before you make an investment in custom cabinets.
At Nowak Cabinets of Midland, you are only limited by your imagination. We can do all types of cabinet installations in Midland, Saginaw, and the rest of Midland County, MI, including, but not limited to:
Mudroom Cabinets
Kitchen Cabinets
Bathroom Cabinets
CAPS (Certified Aging in Place) Cabinets
Basement Bar Cabinets
Wet Bar Cabinets
Laundry Cabinets and so much more
We invite you to visit our showroom today to see the many different styles and materials we offer for cabinetry. And, of course, you can discuss your needs and preferences with one of our trained cabinet designers! Stop in or contact us today at 989-496-7420 for custom cabinets, countertops, closets, and more.