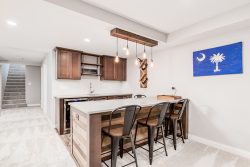 Are you planning on remodeling your basement? One aspect that often gets overlooked is the choice of cabinets. Cabinets can play a crucial role in the functionality and aesthetic appeal of your basement. In this blog post, we will discuss some important factors to consider when choosing basement cabinets.
1. Purpose of the Basement
Before deciding on the type of cabinets to install in your basement, it is essential to determine its purpose. Will you be using it as a storage area, a home office, a recreational space, or a combination of these? The purpose of the basement will help guide your decision when selecting the right cabinets.
2. Cabinet Style
When it comes to cabinet styles, there are multiple options to choose from. You may want to stick with a style that matches the rest of your home or opt for something different to give your basement a unique touch. Popular styles include traditional, modern, rustic, and transitional. Choose a style that complements your overall design theme.
3. Materials
Basement cabinets should be durable and resistant to moisture. Due to the basement's location, it is prone to dampness and humidity. Therefore, it is crucial to choose cabinets made from materials that can withstand these conditions. Avoid materials like particleboard that can warp or deteriorate when exposed to moisture. Opt for hardwood or plywood, as they are more durable and less susceptible to damage.
4. Storage Needs
Consider the items you will be storing in the basement cabinets. Will you need ample storage space for sports equipment, holiday decorations, or household tools? Take inventory of all the items you want to store and create a rough estimate of the space required. This will help you decide on the size and configuration of the cabinets.
5. Cabinet Configuration
The configuration of your basement cabinets depends on your storage needs and the available space. Some popular configurations include base cabinets with drawers, wall-mounted cabinets, and tall cabinets with shelves. Decide on a configuration that maximizes storage and fits the layout of your basement.
6. Organization Features
To make the most of your basement cabinets, consider incorporating organization features. This could include adjustable shelves, pull-out drawers, or built-in dividers. These features will help you keep your belongings organized and easily accessible. Think about what type of organization features would be most beneficial for your specific storage needs.
7. Finishes and Colors
The finishes and colors of your basement cabinets can have a significant impact on the overall aesthetic of the space. Consider the colors and finishes of the walls, flooring, and other elements in your basement when choosing cabinet finishes. If your basement has limited natural light, lighter-colored cabinets can help create a brighter and more inviting space.
8. Budget
Set a budget for your basement cabinets before embarking on purchasing them. This will help you narrow down your options and ensure that you stay within your financial means. Remember to consider the quality of materials and construction when comparing prices. Investing in higher quality cabinets may result in cabinets that last longer and require less maintenance.
Conclusion
Choosing the right basement cabinets is crucial for both functionality and aesthetics. Consider the purpose of your basement, the style and materials of the cabinets, your storage needs, configuration, organization features, finishes and colors, and your budget. By considering these factors, you can make an informed decision and create a basement that meets your needs and personal style.
Got Questions? Let Us Help!
Welcome to Nowak Cabinets of Midland! Nowak Cabinets of Midland is a family-owned and -operated cabinet store in Midland, Michigan. We specialize in custom cabinets and countertops for any room, and we can design and construct them in a wide variety of styles and materials to ensure that the finished project matches your space. We are committed to our service and craftsmanship for each and every project in your home. Contact us today to get started!
Categorised in: Basement Cabinets
This post was written by admin